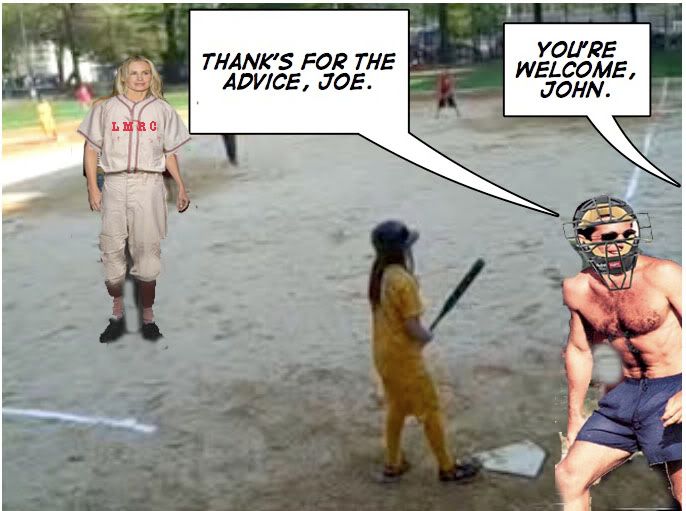 As I mentioned in a previous post, John F. Kennedy Jr. not only jogged down Monroe Street and around the neighborhood, but he also played softball in a co-ed softball league from the court buildings around Centre Street. The league first started playing their games in Columbus Park across from the courts on a concrete field, but in the mid 80's switched their games to Coleman Oval, where the field is composed of the more comfortable sand and grass.
Amazingly, even though his face was regularly seen in the NY daily newspapers, JFK Jr. played in anonymity in Coleman Oval. Our neighborhood is famous for its, "Who gives a hoot" attitude when it comes to celebrities. If someone "didn't put money in their pockets", the general attitude was always indifference.
This was a co-ed softball league, and even the best softball players in this court league, were by our neighborhood standards, at best utility players off the bench. Truthfully, the best softball players tested their talents in an all-men's league, and wouldn't be caught dead playing on the same field with those of the female persuasion. I know that perception has changed over the years, but in the mid 1980's hardly anyone watched softball games where the girls were playing. This added to the phenomenon of JFK playing in relative obscurity in Coleman Oval.
First thing off the bat, so to speak, JFK Jr. was a horrible softball player, with no baseball talents at all. He threw like my grandmother, only not as hard. When he tried to hit the soft lob-in pitches, a medium-speed ground ball to short was a major accomplishment. As for fielding, if he ever actually caught a ball, it was mostly by accident. He was a natural athlete and could run decently, if not especially fast. Obviously, the Kennedy family sports talents were mostly exhibited in their traditional touch football games on the lawn in Hyannis Port, Mass.
So JFK usually was the team's catcher, where a player can do the least amount of damage, unless there is a play at the plate, and a good fielding pitcher can always fall back to home plate to make the catch and tag play.
But JFK Jr.'s lack of baseball skills certainly did not diminish his exuberance for the game. He smiled easily and seemed not to be embarrassed at his inability to play the game with even a modicum of ability.
One day I stood behind home plate against the fence watching the game. I was shocked to see the catcher on the team playing against JFK's team was a girl wearing glasses, and she wore no catcher's mask to protect her face. And being the catcher in a slow pitch co-ed league, it was obvious she had very little catching ability.
Anyone who has ever played competitive softball, even in a soft pitch league, knows how easy it is for the catcher to take a foul tip hard to the face. In fact, JFK Jr. was catching without a catchers mask too, and with that handsome face, he was inviting monumental dental problems. The fact that no man on either team saw this as a problem for the female catcher, highlights the fact not too many of these men had played a lot of competitive softball in the past. And these guys prosecuted our criminals? No wonder the New Yor City crime rate was so high.
So I walked around the fence and approached JFK Jr., who was sitting on the bench waiting his turn at bat. I said something like, "John, that female catcher wearing glasses might get hurt and get hurt badly. She has to wear a catcher's mask. And you should too."
Immediately, he went over to the equipment bag, pulled out a catcher's mask, walked onto the field and called "time!" He handed the girl the catcher's mask and told her to wear it to protect her pretty face. After the inning was over, he took the mask from the girl and wore it himself. From that point on, I never saw a catcher in this league play without wearing a catcher's mask. Again, and some of these players prosecuted our city's criminals.
No, the catcher's mask didn't improve JFK Jr.'s hitting, fielding, or throwing. But it made his dentist a long shot to be cashing any large checks from JFK Jr. in the near future. And the female catcher's dentist too.
In a future post, I will tell a wacky story about JFK's crew carousing in Patrick Henry's Pub after a game, with Mike Maruffi as the usual foil.