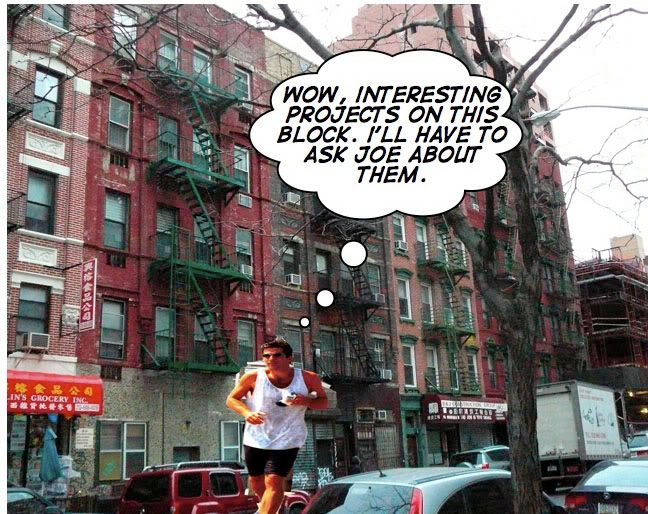 On person who should be included as an honorary member of Knickerbocker Village is John F. Kennedy Jr. Yes, that John F. Kennedy Jr..
JFK Jr. was a member of the Downtown Athletic Club and in the late 1980's we both used to work out at the 7th floor gym, around 5-6 pm weekdays. We really didn't know each other personally, but one time he asked me to spot him on the bench press. After that, we'd spot each other on occasions. And we developed a casual gym-type relationship.
He had a solid built, but not bulky, with huge calf muscles. Maybe the biggest calf muscles I've ever seen. He constantly checked himself out in the gym mirrors too. From all angles. Flexing his muscles. Truth is, if I were that handsome and buff, I'd be doing the mirror bit too.
There is one memory of JFK Jr. that I'll never forget. Late one weekday afternoon, I walked into the elevator at the DAC, which was manned by Tony Gomez, from Knickerbocker Village. Just as Tony was about to close the elevator door, we heard, "Hold the elevator!" In a split second, JFK Jr. glided into the elevator wearing a suit, but his feet encased in roller skates. Tony Gomez told me he did that all the time.
There was a huge bar on the third floor of the DAC. Rudy Riska, the chairman of the Heisman committee at the DAC, told me it was at one time the longest bar in the world. JFK Jr, who worked as an assistant DA at Hogan Place, would stop at the bar occasionally with a few of this friends from work. Someone told him I was a sportswriter – writing mostly boxing. So if we would happen to be sitting near each other at the bar, he would always ask me my opinion of an upcoming fight. Or about the results of a fight that just took place.
One day, I'm sitting in front of the parking lot I owned at 31 Monroe Street, across from Knickerbocker Village, and I see JFK Jr. and another man jogging past my lot. It seemed that sometimes after work, instead of working at out the the DAC gym, he would jog through the streets of lower Manhattan instead.
Now at this time, JFK junior was one of the most recognizable people in NY City. His picture was in the newspapers constantly. So I couldn't understand why, in God's name, he'd be jogging down Monroe Street, which by the mid 1980's was not as safe as it had been years earlier.
The man he was with I assumed to be his body guard, but it turned out not to be the case. JFK Jr. waved at me as he passed by. I waved back, but I couldn't believe what I was seeing. He and his jogging partner, sped past my parking lot, across Market St. and under the Manhattan Bridge.
One day in the late 80's, or early 90's, my wife was sitting in front of the lot when JFK Jr. jogged by with another man. I was not on the premises. My wife said JFK Jr. told his jogging partner, "That's Joe Bruno's Parking Lot." My wife was real proud he said that.
I told her, "Big deal. Guess what? He can read. My name is in big letters on a sign outside my parking lot for all people to see. It fact, that sign is required by law ."
My wife chose not to accept my explanation.
Another time, I saw JFK jogging down Monroe alone. It was around 6 pm. No jogging partner this time. As he passed I said to him, "John, this is not the safest neighborhood in the world to be jogging in. If I were you, I would not jog under the Manhattan Bridge alone. A lot of nuts hang out under the Manhattan Bridge."
And I wasn't kidding. In fact, I couldn't remember the last time I walked under the Manhattan Bridge. I usually took my car to get around Manhattan, and if I had to take the F train subway on Madison Street, the other side of Pike Street, I'd walk on Madison to avoid the darkness under the Manhattan Bridge.
But JFK Jr. shrugged, smiled and kept jogging, right under the Manhattan Bridge.
Huge onions, that man.
JFK Jr. also used to play softball in Coleman Oval, on the corner of Monroe and Market. But more on that later.